Milking the past for a few more posts...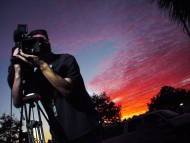 As February turned to March, I got to the business of photog blogging, explaining how happy accidents abound once you simply get
In The Groove
. Long before Katrina altered our perception of modern hurricanes, I wrote about the swirling maelstrom's star power in
The Lure of the Lumbering Cyclops
. From there we stepped out back for the staggered backpedaling of a hundred
Brown Building Walk-Downs
. In
Logos in the Wind
, I unfurled my collection of high-dollar speeding tickets as a lesson to others (and a reminder to myself to slow down). That's when that
New Car Smell
invaded my senses and the summer of 1989 washed over my windshield.
By the time I snapped out of that flashback, the police scanners were going crazy. Soon after I found myself loitering by the fire trucks and dodging dirty looks. Again. It was
One of Those Days
, and writing about it made me feel better. So I jotted down a few notes about the next day's dumb truck wreck in
Bent Sheet Metal
, described the joy of shooting Easter egg hunts in
The Exhaustive Dichotomy
. But then the Spot News Gods hurled thunderbolts my way and I once again found myself a
Street Corner Specter
. An unsavory enough assignment; enough to make me rethink my career path in
A Photog Looks at Forty
.
Through my stout shot glass, deep reflection and half baked prose, I found a way to deal with the vagaries of the chase. Snapping photos and riffing on them brought many a misadventure into focus, whether I was writing
Of Leprechauns and Lounge Lizards
, explaining
The Politics of Pressers
, or admitting that the heavier than ever tripod in my grasp was simply
My Cross to Bear
. About that time, a tiny but growing readership began to develop around my drivel. Comments, e-mail and increasing linkage fed my ego and engorged my muse. I got so excited at one point I proclaimed
2005 Year of the Blog
. Thank God I was right...