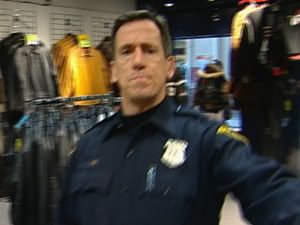 Via
Newshutr
, word of an off-duty Cleveland police officer acting like a rookie Rent A Cop. What
is it
about shoppping malls that sends certain law enforcement types into a
lens-hating frenzy?
Is it the brackish lighting? The snotty Goth kids? Those haughty mannequins? Whatever the cause,
something
is overstimulating sworn officers to the point of parody. Take this clown. Inexplicably upset that WKYC photog Craig Roberson videotaped his fellow officers as part of a story on rowdy kids and mall security, Sargeant Hard-Ass claims dominion over space and time before pushing
KYC's camera
to the ground. Who does this guy think he is - some
overpaid infantile mutant
? Not hardly. Photog Roberson, who had full permission to be in the store at the time of the attack, was treated soon after for injuries to the arm. Here's hoping the city of Cleveland will educate the uniformed goon in question as to where his jurisdiction ends and his inexcusable boorishness begins.
Schmuck...