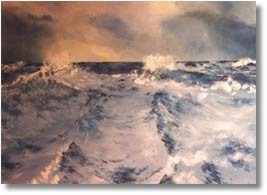 Back in the tumbling surf, the powerful wave was trying to undress me. As the watery avalanche pushed my shirt up the back of my neck, I managed to surface for a second but still couldn't make any real purchase on the sandy bottom. Spitting out a mouthful of saltwater, I saw a blue and red blur to my right - signs of another camera crew being swept off their feet and sucked into the watery vortex. Thank you God, thank you for not making me the only one to suffer this injustice. He answered by gratitude by pushing my head back underwater, but not before allowing me a glance of a thin slatted beach fence rushing toward me.
'That's gonna hurt', I thought as I tightened my grip on the camera tumbling in the surf. It didn't. I hardly felt a thing as I crashed through the brittle boards. Mercifully though, the fence's impact slowed down my momentum and I realized this unwanted underwater ride was about to be over. Sure enough, the rogue wave receded a few yards past the beach fence, unceremoniously depositing me in a swirling tidal pool before quickly retreating to the sea.
'I'm alive', I thought as I lay there in two feet of roiling surf. Then I realized I no longer had the camera in my grip and for a moment, I regretted my newfound survivor status. Like a punch-drunk boxer recovering from a skull-rattling knockout, I scrambled to my feet and began fumbling blindly in the knee-high water. Mercifully, my fingers raked across the electronic corpse. Grabbing a hold of the handle, I lifted it out of the water and placed it backwards on my shoulder. As I did, dirty ocean water poured out of the camera's insides- an unthinkable sight for one so used to cradling the machine with care. It was then the second wave hit me, an avalanche of implications washing through my mind and scattering all other thought. So I did what came natural. I cursed. Long and meaningful profanities poured forth as I noticed for the first time a soaking wet soundman fumbling with his boom microphone right beside me.
As I dropped every blue word the Navy taught me, I glanced upward and realized my misery was being preserved for the ages. For directly above me, from the safety of their top deck perch, the hooded silhouettes of the network crew hunched around their cameras and zoomed in on yours truly. For a split second, I made eye contact with the camera's lens before turning away in search of higher ground. All around me, electronic journalists reached out to help me, but all I could see was the back of the National Guard truck idling in the distance. As I traipsed out of the surf, my brain clicked through several stages - from initial surprise to sad acceptance to unfathomable embarrassment. Vaguely aware of the other ruined camera crew behind me, I briefly considered leading them back into the crashing surf, drowning our shame in the Atlantic Ocean and giving the snickering camera crew above something to really feast on.
Instead, I pushed on toward the waiting truck, ignoring everyone around me and barely holding on to the electronic doorstop in my hand. Plopping one soggy shoe in front of the other, I slogged up the beach and felt the camera's steely gaze on my back. Finally, I made it to the truck where none other than Sheriff Poncho waited, smirking as he chewed the stub of a half-smoked cigar.
"Ya'll boys 'bout had enough?", he asked before chuckling at his own cleverness. I wanted to tell him where he could shove his Boss Hogg cigar, but I figured a jail cell would be a lousy place to dry out. Mumbling under my breath, I hoisted my multi-thousand dollar boat anchor up in the covered truck bed and climbed in after it - wet, unhurt but totally humiliated. Behind me, the sound guy in blue did likewise, followed by a red-suited older photog with his own waterlogged betacam. As we all plopped down in agonized defeat, the truck driver fired up the truck's diesel engine and pulled away from the seaside media circus. The drive took only a few minutes, but as we all sat there in stony silence, it felt like forever.
But it wasn't. Ten minutes later, I arrived at my trusty news unit, still reeling in disbelief. I placed the sopping wet camera in back, fished a dry smoke from the passenger seat and eyed my bag-phone in the floorboard.
'How am I ever gonna explain this?' I asked myself as I lit the cigarette and dug sand out of my ear. Still not knowing, I grabbed the receiver and punched in the ten longest digits of my life. Seconds later, my news director answered the line.
"Yeah, Ron - I don't know how to tell you this -- "
Next Time: The Conclusion...