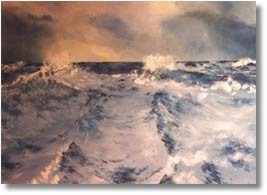 Big mistake. Those two words bounced around my skull as I sunk up to my crotch in cold wet sand. Having left the sat truck scrum two blocks back, I was determined to get to the collapsed houses first, before the scene teemed with competing camera crews. But the only way to do that was hoof it on foot behind a row of boarded-up beachfront condos. Trouble was, the beach itself was pretty slim as swollen waves crashed into the bleach-white seawall. Sticking to the boardwalk, I made my way as far as possible before having to abandon it. However, the surface I stepped on was only pea soup thick and I immediately found myself stuck up to my watch-pocket in soggy wet sand dune. As I struggled to keep the camera above the surface, I wrestled my leg out of the sandy quagmire. My mountain boots bulged in wet goopy beach and my thin khakis clung to my leg like cold, gritty Saran Wrap. I didn't feel much like the mighty Cordan as I peeled myself out of that muck. Still, if I was to make it to the collapsed houses at the far end of the beach, there was no turning back. Slowly I righted myself and began goose-stepping across the unstable surface, as a National Guard army truck rumbled past a block over, back toward the way I came.
After twenty minutes or so of this slow motion tiptoe, I finally spotted the target. Up ahead, a crumpled heap of salt-treated wood, chipped cinderblock and splintered decking lay in the distance, flanked by three other vacation homes apparently untouched by Gordon's wrath. For a moment, I felt like some brave explorer, traipsing over virgin territory unseen by other humans. That's when I spotted the unmarked satellite truck parked under one of the surviving vacation homes. Following the truck's cable up to the cottage's top deck, I watched as three hooded figures leaned on the railing and fiddled with their network camera set-up. As I closed the distance on foot, I could hear their idle chatter. They sounded like old fraternity pals shooting the breeze at a college football game. So much for being a pioneer.
With more than a little sheepishness, I skirted the perimeter of the fallen beach house, hoping to avoid the attention of the cocky network crew perched above me. At least I can pop off a few ground-level shots of the rubble. Small victories, I thought, small victories. But just as I white-balanced my camera and began to roll tape, I heard the unmistakable rumble of a heavy diesel truck approaching in the distance. 'You gotta be kidding me ', I thought as the National Guard troop truck rounded the corner and came to a screeching halt within three yards of my pathetic form. Seconds later, an army of matching rain suits poured out of the back, gingerly handing down their expensive cameras to one another and joking to Sheriff Poncho about the great curb service. Feeling defeated, I slunk away from the growing crowd and down the beach, lest anyone ask why my right pant leg was dripping wet.
Next Time: WIPE OUT!...really!