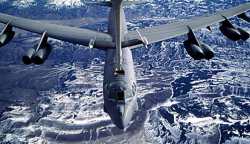 Unlike the Air Force brats I skipped class with in High School, I could never identify the many military aircraft constantly swooping and diving over rural Wayne County. See, I was but a misplaced country boy, not one of those jet mechanic's kid with airplane posters lining the inside of their lockers. But even a reluctant bumpkin like me had heard about the broken arrow of 1961 - in which a crippled B-52 dropped a hydrogen bomb just four miles from my future boyhood home. In the nuclear weapon community, it is nothing short of mythology. In the rusty Camaro circles I grew up in, it's little more than a backwoods curiosity, right up there with the
Mystery Lights of Maco
and the
Devil's Tramping Ground
. But unlike those paranormal question marks, Goldsboro's broken arrow most certainly happened.
Dig it: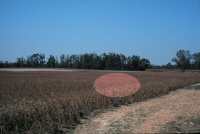 Forty six years ago
today
, a B-52G Stratofortress bomber stationed at Seymour Johnson Air Force Base virtually disintegrated in mid-air and crashed near the cross-roads of Faro, NC. It ejected
two hydrogen bombs
as it fell. Like one of those warheads, five crewmen escaped by parachute. Three died -- two who went down with the doomed bomber, and another who was ended up ensnared in a tree two two miles from the crash site, his neck snapped. The H-bombs too jettisoned as the plane dropped, one bomb parachuting to Earth intact, the other striking a farmer's field at an estimated 760 miles per hour (Mach 1 for those of you out there in flight suits). Luckily, fiery annihilation did
not
ensue.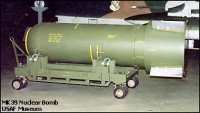 In the end, the soggy topography of backwaters Carolina saved the very region from this Hammer of the Gods. While one bomb landed quietly by parachute, the second one
struck the muck
of a farmer's field at top speed, entombing itself in mud-encased frozen freefall. Telling locals they were looking for a 'lost seat', the Army Corp of Engineers tried to excavate the site but never did recover all of the bomb's components. It remains buried in that swamp today, under a beanfield on
Big Daddy's Road
- a stretch of blacktop I remember for the old seafood restaurant that used to stand nearby, rather than
the precipice of nuclear holocaust
.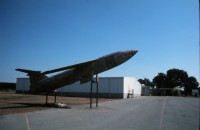 But that's what almost happened. The H-bomb in question's strength is forever in dispute, but the most conservative guess places it
250 times more powerful
than the blast that erased Hiroshima. Had the lost bomb detonated, it would have carved out a crater one third of a mile wide, leveling every home in a five mile swath, including those of the good people who came to raise me. Even new cousins nine miles away would have suffered third-degree burns. It would have been
a very bad day
Downeast. Instead, the thermonuclear weapon vanished into the goop - out of sight, out of mind. That so many in the area know nothing or little of the incident is a testament of our limited attention span, perhaps. Even I, a UFO nerd with a soft spot for
'In Search Of'
episodes, grew up only dimly aware of
the white-hot annihilator down the road
.
I
did
always think the water tasted funny, though.