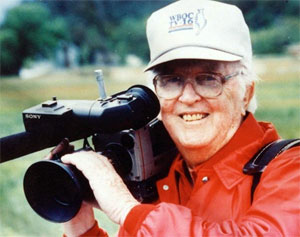 I knew not of
Scorchy Tawes
before today, but according to widespread reports, a Master has passed. Consider the evidence: a brush with the lens during World War II, nearly 30 years in the TV trenches, 2,000 stories on the evening news - most centering around everyday folk in the great outdoors. Yes Sir, this Delmarva native with an eye for the poetic and the quirky lived a life well worth remembering. Which is what an awful alot of people on the Eastern Shore are doing - now that Scorchy is gone. From
b-roll.net
founder
Kevin Johnson
, who had the honor of working with the local legend early in his career.
"It was an amazing opportunity for a young photog like me to be able to shoot stories with such a storyteller. He taught me how to look and listen. Follow the people and their faces, and you'll find the story, he explained."
Sage advice from someone who knew. Described as a cross between Robert Frost and Charles Kuralt, C. Norris "Scorchy" Tawes was considered by many as the bard of the Eastern Shore. For more than a quarter of a century at
WBOC
, he did the finest thing a local television journalist can do: reflect the people and the region that surrounds your station. Tawes did just that and he came to embody his beloved beat. A talented writer, photog and editor who
inspired
more people than he eventually covered in his
long and storied TV career
, Scorchy left his impressions on the minds of millions. Not bad for a local fellow who could have very well perished in the Battle of the Bulge.
Rest In Peace.