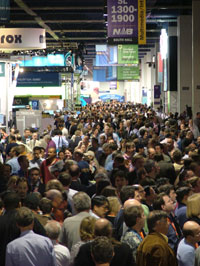 By the time you read this I'll be wedged tightly onto a discount flight to
Vegas
,
the Mighty Weaver
at my side. Our illicit mission? Scour the reaches of
NAB's electronic media show
, an annual gathering of more than 100 thousand broadcast brains and TV geeks from 130 different countries. In short, Mecca for a couple of electro-dorks like us. With laptop and a few tiny lenses in tow, Weaver and I will comb the convention floor for old friends, new toys and other inherent weirdness. Other bloggers I know are promising blanket coverage of this mind-boggling summit, but ours will be more of the cocktail napkin variety. Look for down and dirty updates as we try to make up for our lack of heavy glass. W-e-l-l after sunrise Monday we'll rendezvous with
Kevin Johnson and Andy Grossman
to shoot some goofy segments
From The Floor!
Those clips should be up on
b-roll.net
pretty quickly (
Check your Lenslinger's local listings
). We'll also catch up with NAB vet
Brad Ingram
as well as the world's funniest photog,
JL Watkins
- otherwise known as
Little Lost Robot
. Speaking of l
ost
, the fellows from
Lost Remote
are hosting a soiree we hope to hit, before crashing the B-Roll Bash and a half dozen meet-n-greets in between. The only thing we won't have time for is sleep, something I'm told is kinda frowned upon in Vegas anyway. Do me a favor - remind me of this enthusiasm later in the week when I'm back home, battling jet-lag in a sun-baked news cruiser. Until then...
Viva Las Vegas!