Okay so it's not a
flattering
picture but a guy's gotta have
something
to blog about. Besides, I have a pretty good reason for not looking my best here. When the picture was snapped, Hurricane Isabel had been raining up my nose for a good ten hours. The dirty weather with a name came on quick, turning our pleasant parking spot by the fishing pier into a seaside encampment under seige. Still, that's what we came for, so as the swirling malestrom descended upon us, we dug in and went LIVE! The rest of the week stretched into an aching blur of soaking wet electronics, damp catnaps and too many granola bars. It was GREAT!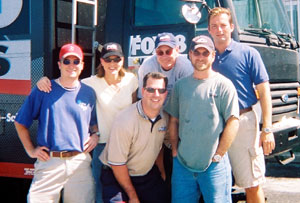 Or at least the memory is. It certainly makes for
a good Top Ten list
. Isn't that what life is all about? I think so - that's why the next time a malevolent cyclops bears down on our coast, I'm throwing my packed bags on the bosses desk and soon heading East thereafter. Because when you're huddled in a seedy hotel doorway before dawn, lashing down electric lights as flanks of seawater whip across the parking lot and a flimsy fishing pier trembles in the distance....well, that's story fodder you can't find at the office copier. So rest assured I'll be back for more - and this time, I'm taking YOU PEOPLE with me...